Easy Oreo Fluff Salad
Easy Oreo Fluff Salad is a dessert salad full of pudding, Cool Whip and TONS of Oreo cookies. It's like an Oreo mousse but even better! Bonus: you can make this into a Weight Watchers recipe easily by just substituting some of the ingredients!
PIN IT NOW TO SAVE FOR LATER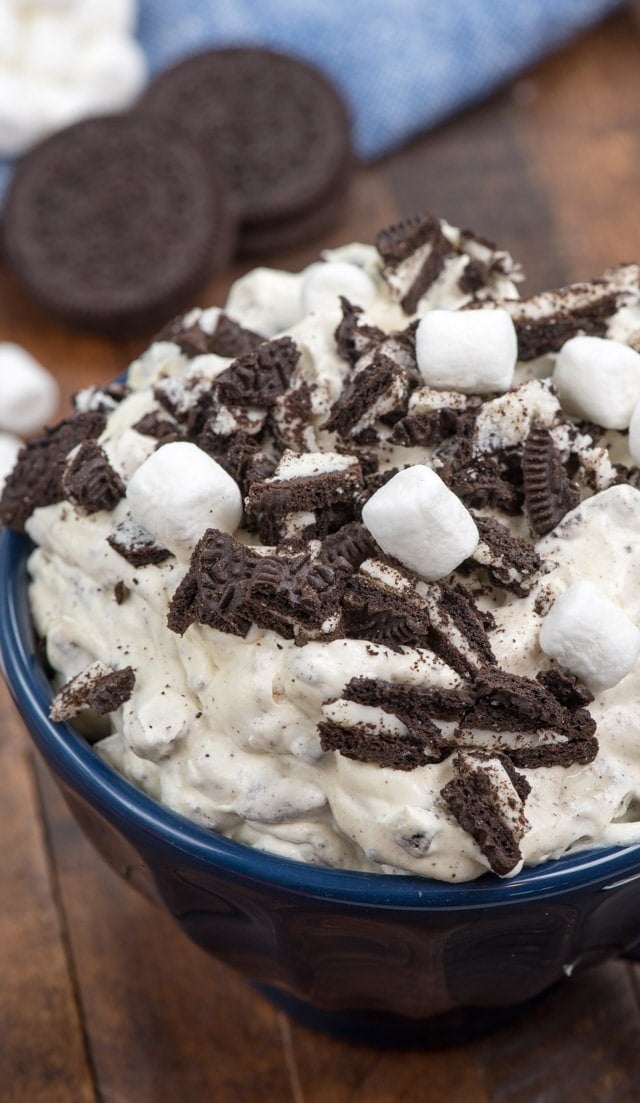 Seriously guys I could just face plant into this recipe. It's a bowl full of fluffy creamy pudding filled with Oreos…there isn't much better than that. I mean, don't we all need an excuse to eat more Oreos and add more sugar to Oreos?
I love calling this a salad recipe because people lose their minds on Facebook whenever I post dessert salads. I get Basic Becky and Negative Nancy screaming at me every. single. time.
"That's not a salad, that's DESSERT."
"That looks like diabetes!"
"WHERE IS THE KALE SALADS HAVE GREEN THIS IS DESSERT"
The best commenters comment in all caps with no punctuation. I love them; they give me life. Occasionally the troll comments will get to me but most of the time I just laugh and say bring it on; more comments = more engagement = more eyes on my post.
Back in the day, this was called a dessert salad and I'm sticking to my guns on that one. There may be no fruit in this ambrosia but that's okay; I won't eat fluff with fruit but I will inhale fluff with Oreos.
The post Easy Oreo Fluff Salad appeared first on Crazy for Crust.