Easy Pretzel Rolls (with frozen dinner rolls)
I made Easy Pretzel Buns out of frozen dinner rolls. No flour, no mixer, no mess. Just a few hours of rising time and you get pretzel rolls for any meal! These easy pretzel rolls are boiled and baked and taste just like a soft pretzel – with a fraction of the work.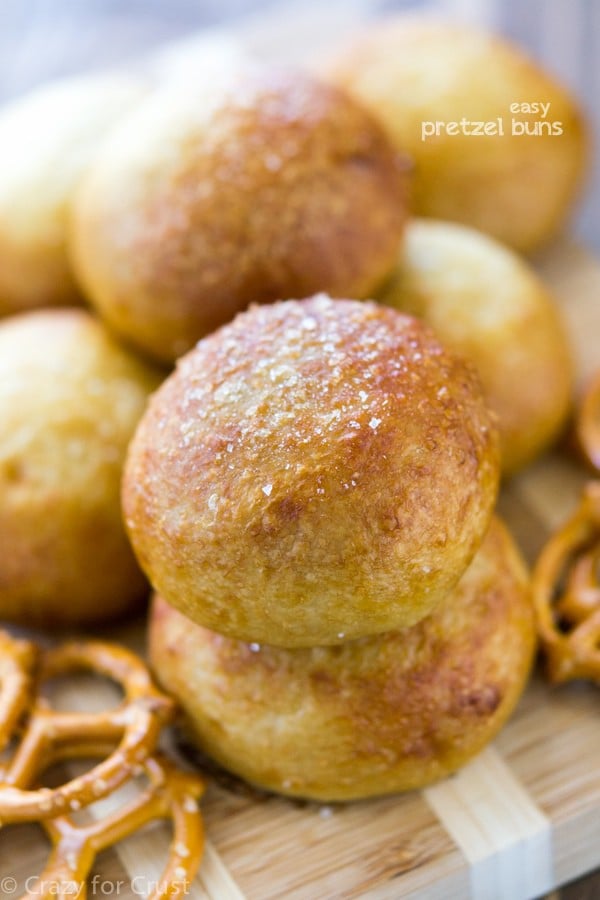 Quick, name one kind of bread you cannotstopeating. For me? Soft Pretzels. I can't even buy them or make them without eating the whole batch, which is why this recipe is probably going to be my curse. They sell pretzel rolls and pretzel sticks at most grocery stores these day and I cannot buy them. The worst is when I go to Costco and have to walk very quickly by the bread aisle lest I buy a Costco-sized bag of pretzel sticks or bites. It's ONE SERVING, if you ask me!
Basically, I'm obsessed with soft pretzels. (I love them so much I've even made them out of cake mix. Twice.)
I made pretzel buns a long time ago, from a Guy Fieri recipe. They were good, but they took such a long time. Mix the dough, let it rise. Punch it down, let it rise. Cut it up, let it rise. Boil, bake. OhmigoshIjustwanttoeatonerightnow!
These? Are not those pretzel rolls. These? Are easy. Like, no mixing. No flour. No mess. I started this recipe with frozen dinner rolls. They're the perfect dinner side dish or rolls for sandwiches!
RIGHT? I'm a genius. (Probably not, I didn't google. I like to think I came up with the idea. Especially since I did these easy pretzel bites awhile back.)
The fact that these require literally no work could be a good thing…or a bad thing. I don't know, are you dieting?
The post Easy Pretzel Rolls (with frozen dinner rolls) appeared first on Crazy for Crust.