Easy Homemade Dog Cake

If you want to celebrate your pooch, make an Easy Homemade Dog Cake for them! This peanut butter dog cake is made with simple ingredients and frosted with whipped cream – your dog will LOVE every bite!
This post is sponsored by Mirum, but opinions expressed are my own. Abby loved her birthday cake and present, thanks to Mirum!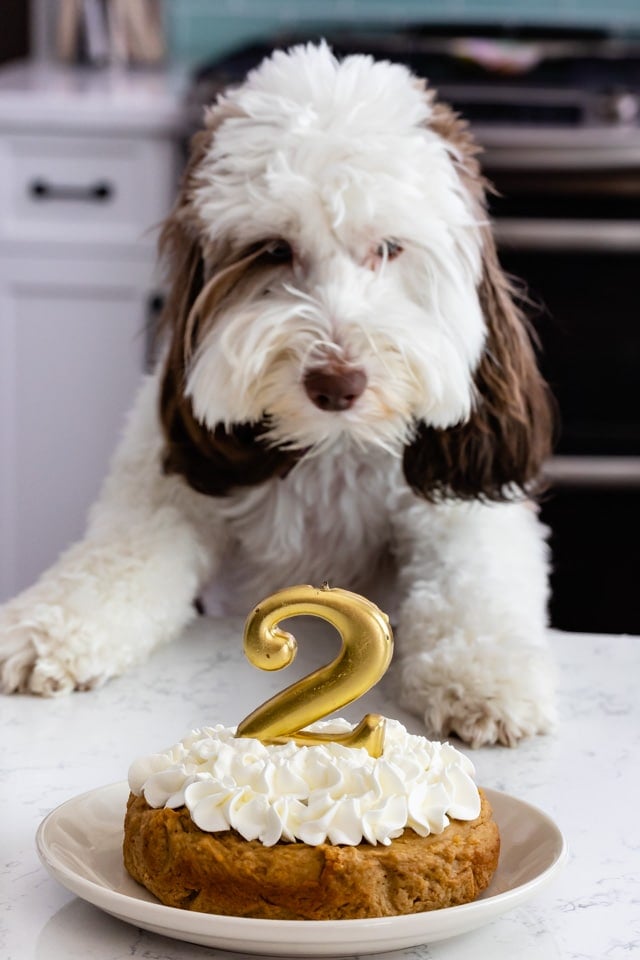 We all know that birthdays are a big deal in my house, even if you're the dog. Last year I celebrated Abby's first birthday with Pupcakes and this year I made her a cake! It's her favorite kind of cake too, peanut butter made with applesauce and frosted with whipped cream. Abby loves whipped cream; it's like her favorite treat EVER.
I love celebrating dog birthdays. Maybe I'm a sucker or just a really good dog mom, but I love all the pomp and circumstance of making her a doggy treat. Homemade dog treats are so easy to make and it's fun too. Dogs somehow have a sixth sense about treats; they know when you're making them specially for them.
This easy dog cake makes a 6-inch layer. It's filled with peanut butter and applesauce and frosted with whipped cream – the perfect dog cake recipe for a puppy party!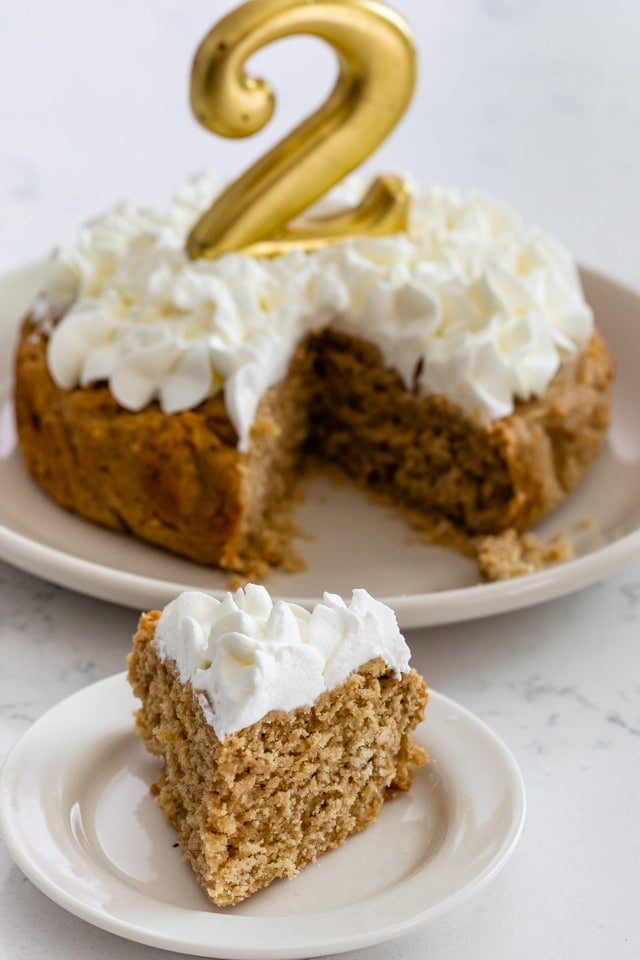 Abby has turned into a rambunctious 2-year-old. She's still her same old anxious self – she's never far from me – but she loves her ball and swimming. She's become almost manic about swimming: the second she sees Jordan or Mel in their swimsuits she's following them around like they're coated in whipped cream. If they happen to forget to bring her outside with them she (literally) throws herself against the door until I let her out. It's part hilarious and part annoying, ha!
Since she's so small (only 15 pounds – her fur makes her look bigger) I let her have all the treats she wants. She doesn't eat much so birthday cake isn't something she needs to worry about consuming. (Ah, if only I had her metabolism.)
Caring for a dog like Abby might be hard but I wouldn't trade it for the world. Whenever someone talks about getting a dog I always tell them it's a lot of work but if you love them enough it'll be worth it!
The post Easy Homemade Dog Cake appeared first on Crazy for Crust.